It was so much fun participating in the Holly Bloggy exchange over at Teacher Blogger Exchange.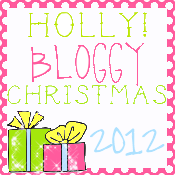 Stephanie's Exchange is posted
here
.
Stephany's Exchange is posted
here
.
I got to send my gift to Amy Patte. I decided it was time to go to Pinterest and find something totally cute to create for her! She teaches Kindergarten in Charleston, South Carolina. I found this cute idea and made it for her.
I took an 11x14 frame and painted red dots on it...because her favorite colors were red & black. I then bough a piece of sheet metal so that is would be magnetic. My wonderful hubby cut the metal and painted it with chalkboard paint for me...he's the BEST!!
The possibilities are endless as to what you do with this! I'm thinking I need to make one for myself :)
I can't blog about the gift I received because I haven't received one yet...I'm thinking that it has been delayed with the holiday rush! As soon as I receive mine I will add to this post.
I hope you all have a very Merry Christmas!
Kathi